---

Theresa combines energy work with a unique ability to tune into her client's life path and relationships.
I have never found anyone who works with such precise skill and compassion regarding both energetic clearing and astute spiritual counseling. I constantly refer others to work with Theresa and her team of Guides. Her sessions are intensely palpable and radically transformative, providing immediate restoration for mind, body and spirit.
It is hard to put into words the impact that working with Theresa and her Spiritual Associates has had on my life.
Every session has been positively life changing. From gathering life advice, to business wisdom, healing wounds and resetting my vibration, working with Theresa and Associates has been one of best decisions I've ever made. I have referred them to numerous friends, family members and colleagues who have all had the same transcendent experiences.
They are a gift to this planet, one that I treasure regularly.

I wholeheartedly refer my executive, and entrepreneur coaching clients to Theresa for additional perspective, and deeper insights. Theresa is a Master of her craft— the rare integration of physical, and metaphysical anatomy. She has personally helped me connect to allies and resources beyond what I can physically see.
She then helps her clients see a more direct path toward their goals and vision by removing energy blocks. Her insights help focus my daily practices to keep my energy flowing in the most productive,
and successful directions.
My life has been profoundly blessed in working with her, and the reviews from clients I have sent to Theresa for additional healing have been nothing short of glowing.
Everywhere I look, we can see the world moving in this direction— where we must open to the Divine assistance we may have once been blind to. Theresa O'Connor is the first person I call.



I have known and worked with Theresa since 2014. At that time I needed a confidante, a guide, a teacher who is loving and compassionate enough to understand my personal and professional journey, and who could support me in the most gentle and non-judgmental way. Through our ongoing connection, I have become more open to my spiritual path, the personal and professional callings that I would be afraid to recognize in the past.
One of the major benefits of our work together is that I am more present in my life experience regardless of whether such experience is happy or sad. Theresa has encouraged a deepening on my connection to my innermost being, as well as a deepening of my natural connection to the invisible world.
During multiple sessions with Theresa, I would be inspired to move more and more into the truth of my heart and soul, and to authentically speak this truth in the realms of my personal and professional lives. Such a gentle and loving collaboration has definitely supported me in some of my most challenging times.
Lilia Yacova
Ph.D. in Organizational Communication and Policy, Purdue University, USA
M.A. in International Affairs, Marquette University, USA
B.A. in Political Science, American University in Bulgaria


I was divinely led to Theresa in a moment of spiritual emergency in my life when I felt completely lost and scared of living. I didn't know how to trust myself and the world around me, I had dissociated from myself so much that I was afraid of even my own shadow.
With the loving, deeply compassionate, highly skilled and sacred guidance and Presence of Theresa and her team, I was able to gradually face the scary and painful sides of me that I had been trying to run away from for a very long time. It would have been too frightful for me to get familiar with those inner wounds alone, so I'm forever grateful for Theresa for facilitating a safe space where we could journey to my internal world together and let the traumatized child in me know that she's safe now and I'm ready to hear and understand her.
Working with Theresa has been life-changing and although it's naturally my own job to do the inner work of building new, healthier, more compassionate and loving thought and behavior patterns, it helps tremendously to have a Divine Coach like Theresa on my side, asking and answering the "right" questions, celebrating the Light in me and holding my hand mentally or physically when needed.
I can not express in words how I feel towards Theresa and her team's work on behalf of me and everyone's highest good. I feel she's an angel on the Earth with such wise, sensitive, healing and kind soul and Presence. Working with her has made me remember my own spiritual, whole and holy essence, and honor and live through that Higher Self to benefit the evolution of consciousness not only in myself but within our collective humanity and beautiful planet Earth.
Kiira Korbi
Finnish Olympic Figure Skater

Theresa is one of the most beautiful people – a practitioner from the heart, whose wise wisdom is calming, assuring, and clarifying during the turbulation this life can present at times.
Thank you Theresa for being a love-ly sage and guide to so many of us!
Louis Alloro, M. Ed., MAPP
Change-Agent, Senior Fellow for the Advancement of Wellbeing
http://louisalloro.com

Theresa has served as a mentor, guide, and support for me and my loved ones during my most difficult times. She stands as a healing presence of the highest order. From navigating the personal challenges of the grief and loss of my father, to challenging business transitions and advice that helped me reconnect to my greater life purpose in my career, Theresa has been a shining light of clarity, grounded presence, and therapeutic mastery.
I have recommended, and will continue to recommend her to any and all of my family, friends, and clients. If you want to connect to a higher vibration in your life through her expert guidance, or even if you need support in healing on any level, I'd hope you have the opportunity to have her on your team…because with her behind you, you'll almost undoubtedly feel invincible as I have. Working with her is the single greatest investment I've ever made to spiritual awareness and progress in my life.
Mike Thomas, NSCA-CPT
TRE® Provider
Integrative Coach and Amen Clinics Brain Health Coach
Trauma-Informed Holistic Personal Fitness Trainer
SSP® Provider, Stress Management Facilitator
T'ai Chi Instructor and Mindfulness Coach
www.holisticfitnesslifestyle.com
Theresa is one of the most dynamic, energetic and brilliant people I know. I have been fortunate to experience working with Theresa as a Student and as a Colleague. Her insights and experiences are amazing. She sheds new light on old assumptions and shares her knowledge in understandable ways.
Not only does she have a "big brain," she has a huge heart. Theresa's kindness and warmth affect everyone she touches.
Ellen Ely
President
ELY Enterprises

Theresa is a true gem in the world of healing and personal transformation.
My experiences have really been transformational on so many levels. Being in her presence alone is life changing. She cares so deeply and gives so much to her clients. You leave a session with Theresa feeling transformed energetically (vibrating on a much higher level), emotionally (letting go of what you didn't know was holding you back) and physically (your whole body awake and feeling aligned).
Theresa is truly a gifted guide, teacher, mentor, and healer. The opportunity to experience her magic for yourself, is a real gift to yourself!

Carolann Valentino
Actor, Comic, Singer, Dancer, Producer, Writer
www.burntatthesteak.com

Having a session with Theresa is revolutionary. Her ability to tap into the spiritual realm paired with her in-depth knowledge of healthcare is profound. My experience of/with Theresa has helped me move through some of the darkest periods in my life.

She has given me hope and inspiration to move forward. Working with Theresa is both powerful and gentle – it serves as a beautiful guide to reveal my greater potential.

It is permission to honor the darkness and a reminder that it is just a pit stop on the journey to transcendence.
Sasha Perelman
Entrepreneur
https://www.revolvereventsco.com/who-we-are

Working with Theresa is transformative.
She is everything you'd hope for in a healer: she is warm, kind, honest, completely tapped in – but she is also so much more. Theresa is the epitome of grace, compassion and love. She holds a space that allows room for fears and failures and pain to surface be released and re-purposed without judgement.
As someone who has lived a life full of extreme challenges, working with Theresa has given me freedom psychologically, emotionally, physically and spiritually, helping clear the space in my heart and life to live truthfully as I continue to heal myself, and share that healing with others.Take this journey with Theresa. You will be ever so glad that you did.

Katy Pfaffi
Voice Teacher, Vocal/Performance Coach, Certified Line Coach
Multi-Instrumentalist and Composer
Co-Founder and Artistic Director of Broadway's Babies Non-Profit Organization
www.singwithkaty.com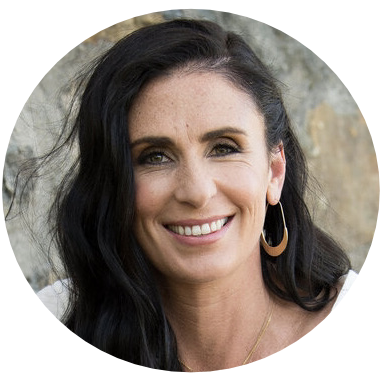 My time with Theresa was one of the most affirming, confirming experiences I have ever had in my life. I left the session with a new level of trust and faith in my own intuition and my purpose as an author and teacher. Following our session, I made a life-changing decision that I'd been wrestling with for years. As a result of that decision, I now have so much more peace, space, and freedom to do the work I am meant to do.
Laura McKowen
Author, Teacher, & Speaker
www.lauramckowen.com
Creator of The Luckiest Club
www.theluckiestclub.com