Workshops & Retreats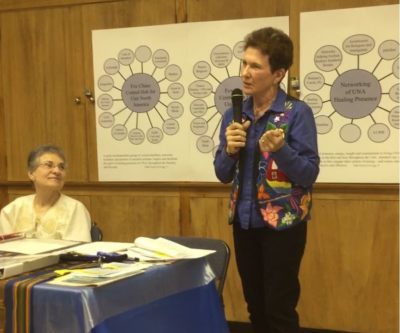 Although I have led week-long spiritual retreats on location at several beautiful retreat centers, more recently my offerings have been day-long programs, with gatherings done through zoom. Programs involve deepening individuals awareness of and experience of one's spiritual nature, accessing one's higher self-knowing, and benefiting from one's mind-body-spirit integration.
---
I'd like to share with you some feedback from prior retreat participants:
Phenomenal Retreat! Theresa lives so deeply her life in rhythm with Divine Presence – the Universal Consciousness, and shares so clearly the wisdom she embodies.
Most useful: Theresa and her associates – very insightful, on the mark, eye-opening.
This retreat has given me the tools and inspiration to deepen my commitment to leading an enlightened life as a way of being in the world. May I live and grow into the challenge.
Theresa's trusting her guides stretches me to open to my guides more consciously.
10 for facilitator and 10 for retreat, on a scale of 1 to 10! Keep doing what you are doing since you are doing it so well.
Mind, body, spirit and light, with a sprinkle of BLISS! You are an inspiration and I very much appreciate all that you have given and shared with us. Thank you for being a clear channel. Radiant beauty – Theresa, it is in all of us and so effervescent in you.